Our Pastor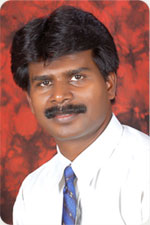 Pastor Y. Solomon Kings, Gods chosen vessel to lead the mighty army of Christ into Gods anointed worship and revival, hails from a humble and God fearing family from the southernmost tip of Indian peninsula, kanyakumari also known as Cape Comerin.
His passion for Christ started at a very young age when he received the call of God and hence gave up his lucrative life to follow the footsteps of Lord Jesus Christ in obedience to his call, to be a worker in the harvest of Christ according to Luke 10:2 and to prepare and gather as many people in the Sheepfold of Christ according to John10:16.
In adherence to the call of Christ he joined Bible College in Tamil Nadu where he received a vision from the Lord in which he saw a statue of hanuman (ape) a Hindu God that is about 108 feet high and he saw himself as ministering around that area, not knowing where it was. Exactly after completing three years in Bible College he came in the capital city New Delhi, Karol Bagh for his further studies. To his surprise he saw the same statue as in the vision and moved by the Spirit of God, decided to start his ministry in a small rented room in Karol Bagh with eight rupees at hand. He spent many days without food. After many hardships and struggles, Pastor was able to lead a brother to accept Christ as his personal Saviour. Gradually the church began to grow and three more brothers were added a sister also turned up who had been great help in the ministry. Every day looking to God in faith the ministry began to flourish. Today the Lord has added more than 400 people in different areas in Delhi were the Church functions.
God gave our Pastor tremendous wisdom and knowledge to lead the perishing young souls across various areas in the city, to the love of Jesus Christ. His zeal to introduce Jesus Christ drives him to come up with innovative ideas to reach the non believers through his outreach programs which involves Street Gospel were Gospel is preached through choreography, skit, breath taking songs etc in and around Delhi where Jesus is not known. Also Pastor trains young people for the ministry of Christ to become Lords Ambassadors.
Pastor kings has been ministering across the world. His main objective is to reach the unreached, to bring about revival and to prepare the world for the second coming of Our Lord and saviour Jesus Christ.
God has blessed Pastor with a wonderful married life with a woman of faith who was there as a stronghold in all his struggles. She is a Teacher professionally, a minister in Lords army, a supporting wife and a caring mother. Also they are blessed with two children John Chriskins and Mercy Patricia, a wonderful partnershisp in the Lord.